Alpha Lion Superhuman Pump 365g
Bigger Pumps Better Hydration†
Savage non-stim muscle pumps during training†
Ignite new gains while cycling off caffeine†
Balloon-like Muscle Fullness even AFTER your workout†
Freaky vascularity within minutes of your 1st Set†
Caffeine-free
SUPERHUMAN PUMP is a revolutionary stim-free pre-workout experience scientifically engineered to give you violent muscle pumps and muscles so full you may rip the sleeves off your shirt during your workout!†
SUPERHUMAN PUMP contains a MAX-DOSED formula packed with the following perfect pump primers:
8000 mg of L-Citrulline Malate
150 mg of S7
3000 mg of HydroPrime
3500 mg of Beta-Alanine
350 mg of pink sea salt
600 mg of Organic Lion's Mane
300 mg of AlphaSize
With these absolutely LOADED premium ingredients, you have an unparalleled workout experience you have to feel in your biceps to believe!
How To Take SuperHuman Pump?
Option 1: As a standalone product take 15-30 minutes before your workout.
Option 2: Stack with any of our SuperHuman Pre-Workouts for maximum energy, pump & performance.†
Option 3: When cycling off stims, take SUPERHUMAN PUMP every other workout, so effectively you are giving your body a 24-48 hour break from stimulants.
†These statements have not been evaluated by the Food and Drug Administration. This product is not intended to diagnose, treat, cure, or prevent any disease.
**not suitable for persons under 18 years old.
Alpha Lion Superhuman Pump Label
Only cowards hide behind magical "blends" in their formulas that are simply marketing excuses for under dosed ingredients and ineffective products.
Formulated with 100% transparency, using premium & patented ingredients at clinical dosages.
We take pride in our Full Label Disclosure, so you see EVERY ingredient inside.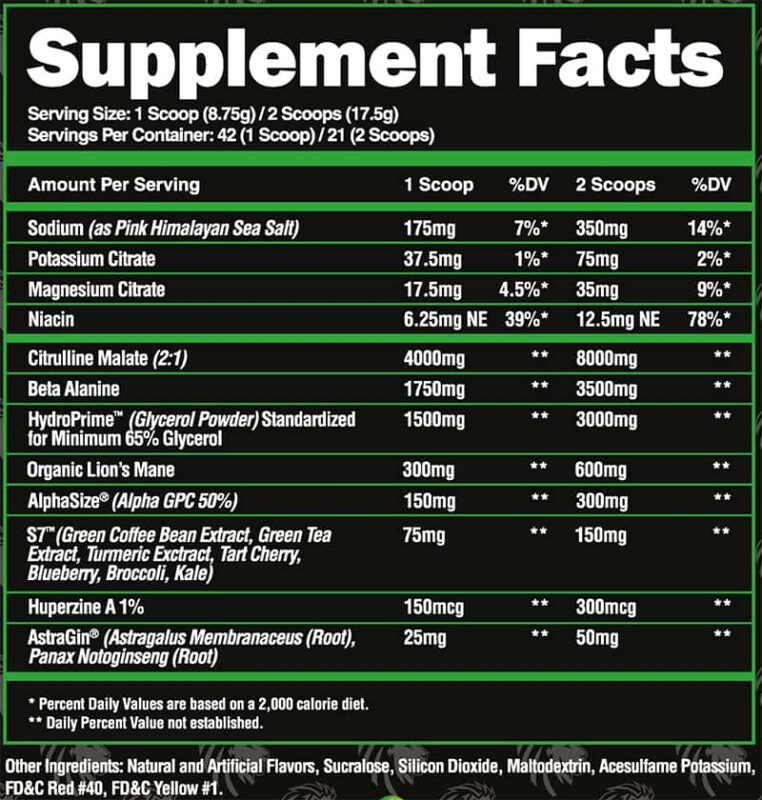 The Alpha Lion Difference
All Alpha Lion products are formulated for men and women who want to enhance performance to superhuman levels in and out of the gym. Made with some of the most premium and patented ingredients available. You will never see our formula hidden behind a proprietary blend as 100% transparency with our customers is what we believe in. All our products are 100% safe, tested, and made in the USA in an FDA and GMP certified facility and backed by an industry-first 365 Day Money Back Guarantee.
Alpha Lion Superhuman Pump Ireland