Chaos Crew Glycer Swell - 200g
Regular price
Sale price
€29,99
Unit price
per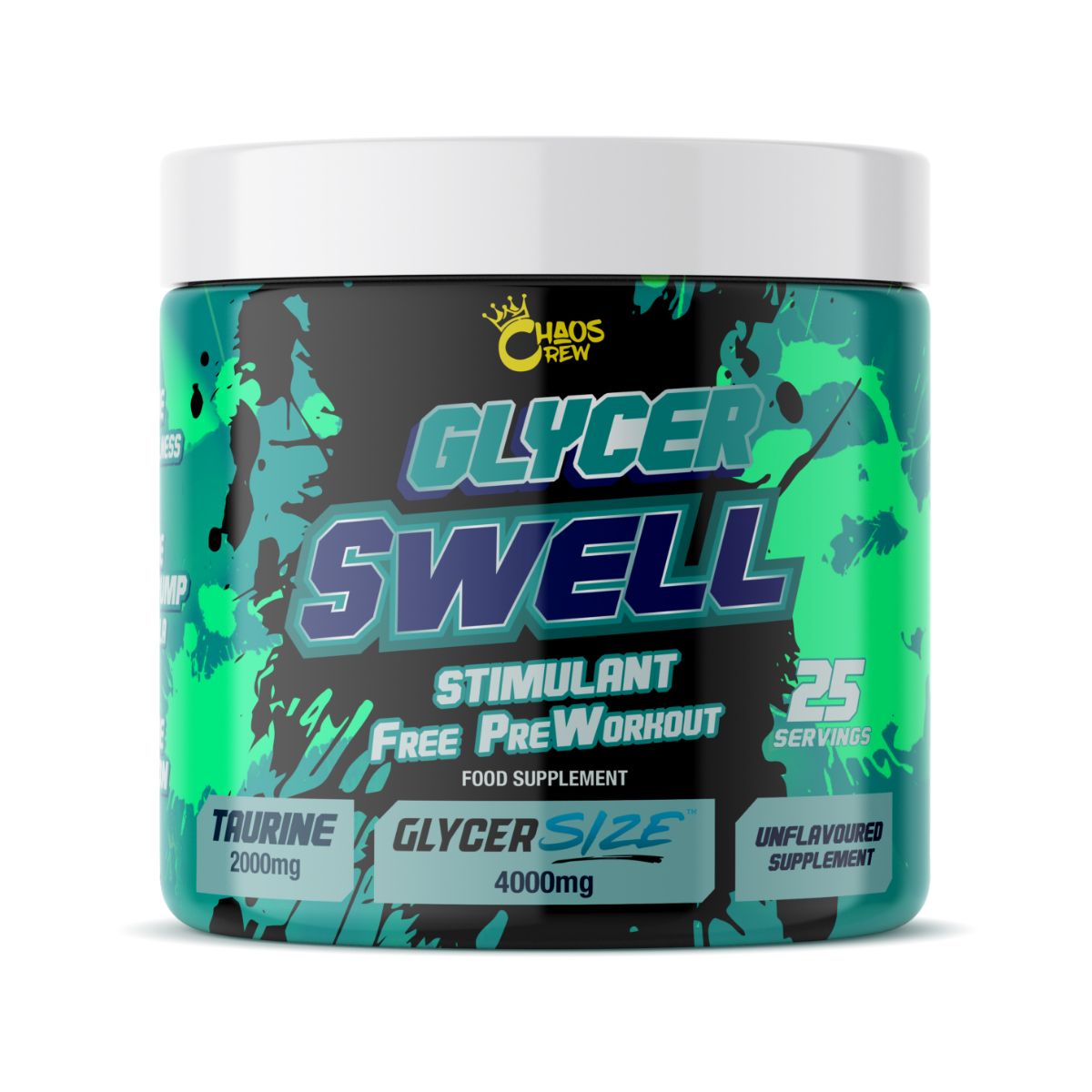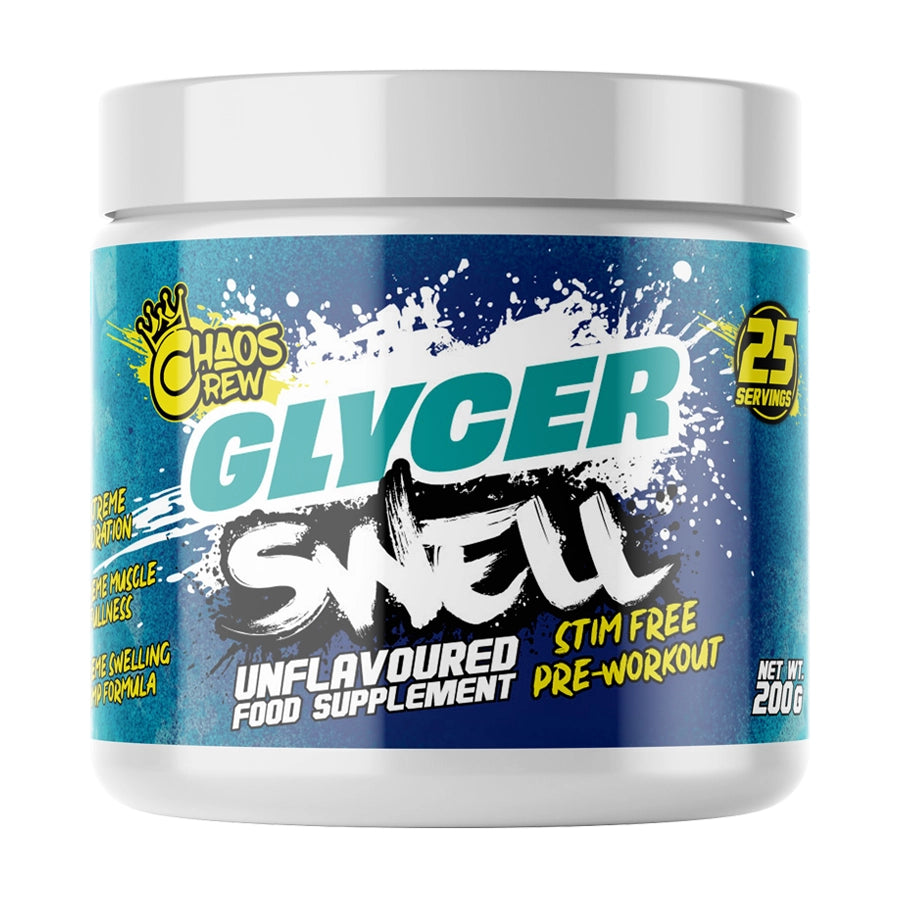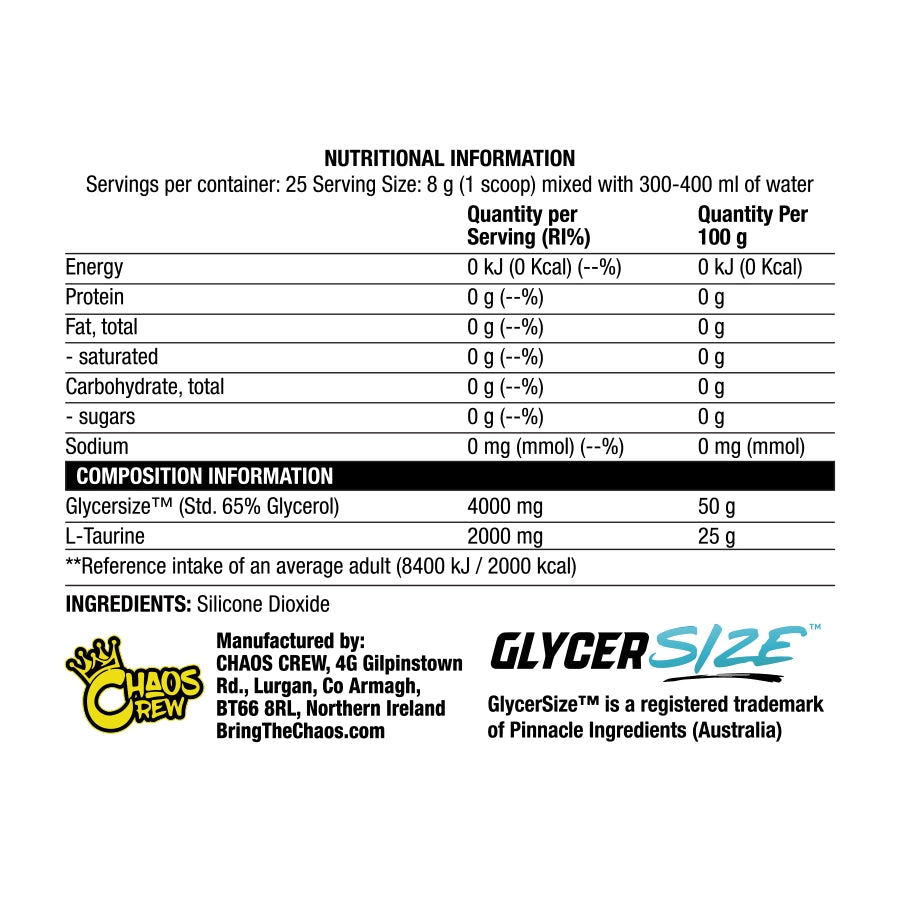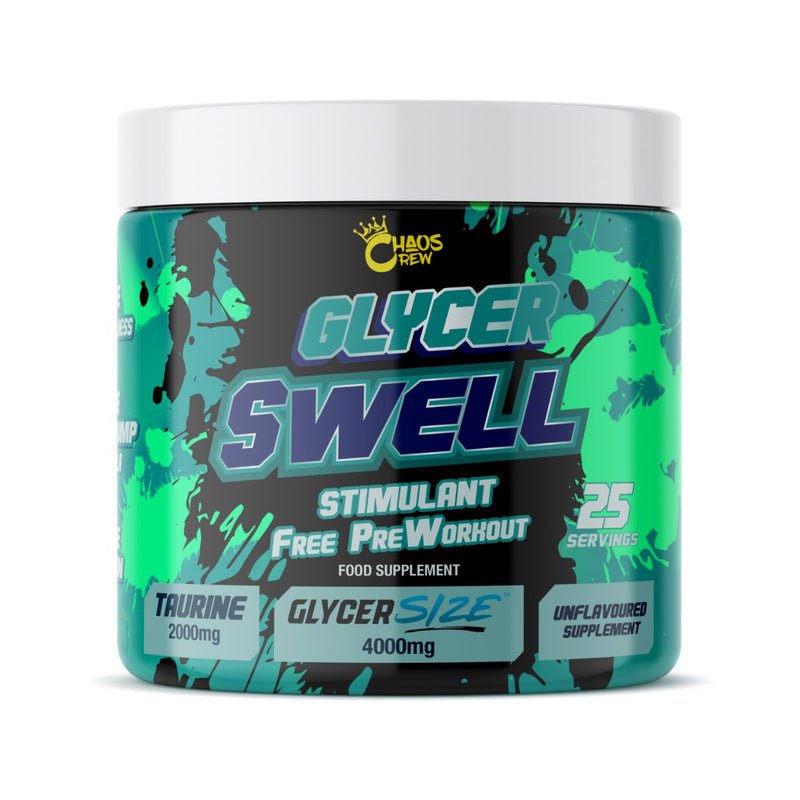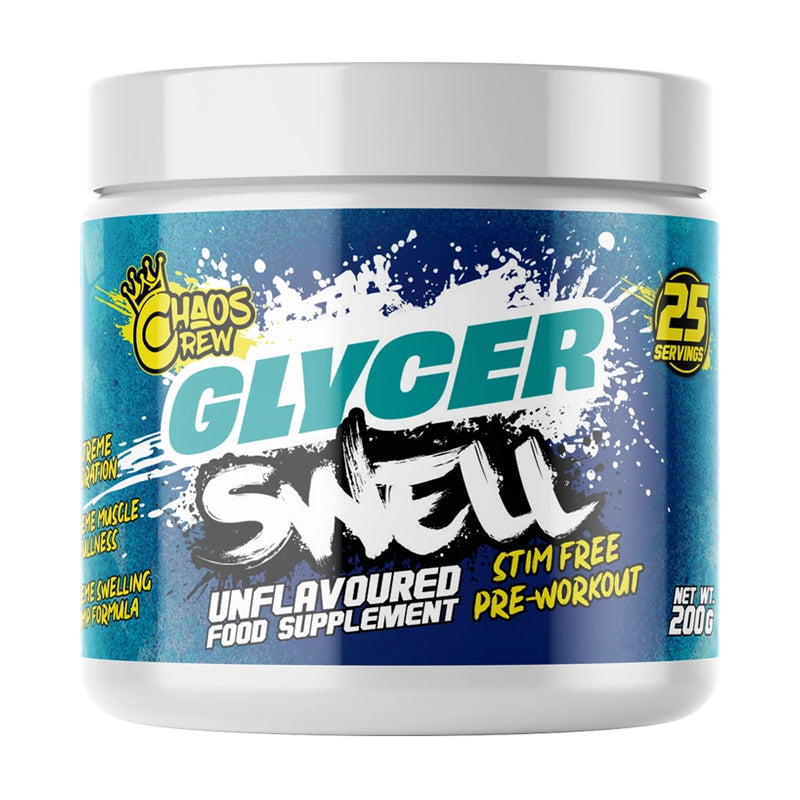 Regular price
Sale price
€29,99
Unit price
per
Same day dispatch when you order before 3pm
95% Next day delivery rate
Order by 3pm for same day dispatch!
DESCRIPTION

Chaos Crew Glycer Swell

Glycer Swell - Glycer Swell from

Chaos Crew

combines 2 ingredients to improve Muscle pumps and support hydration. Each serving packs 4g of GlycerSize with 2g of Taurine to bring about some crazy Pumps.

GlycerSize is an advanced form of glycerol that delivers more glycerol per gram than conventional glycerol products. Where previous forms of glycerol products only contained between 10% and 25% glycerol, GlycerSize yields a 65% glycerol content.

How does GlycerSize work?

GlycerSize supports improved hydration and nutrient absorption due to its ability to enhance the cell's ability to absorb water. Imagine GlycerSize transforming your cells into ultra-absorbent sponges and encouraging them to soak up extra water and nutrients and thereby improving endurance, performance, muscle fullness, vascularity, and pumps! In simple terms, GlycerSize sends extra fluid into the muscles resulting in improved hydration, endurance, performance, and Massive Pumps!

Taurine 2000mg

This highly abundant intracellular amino acid plays several vital roles that may result in enhanced exercise performance. Similar to creatine, it draws water into muscle cells, thereby acting as a powerful cell volumizer. Increased cell volume makes muscles appear fuller/larger, and creates a more anabolic environment for hypertrophy to occur. Taurine also helps regulate water and electrolyte balance in the blood, and within cells, which may help to prevent muscle cramping in intense trainers. Additionally, this highly versatile amino acid has be shown to increase a muscle's ability to generate force, leading to more powerful contractions, and greater release of the vasodilator, Nitric Oxide .

How to use Chaos Crew Glycer Swell

Glycer Swell is a flexible non stimulant product that you can stack with other pre workouts/pump products for more EXTREME SKIN SPLITTING PUMPS. We also highly rate this for use intra workout and will stack nicely with our new pumping aminos product to bring your pumps to a whole new level.

Tip: Glycer Swell truly shines when combined with adequate hydration. To get the most out of Glycer Swell make sure to consume enough water and stay properly hydrated.
SHIPPING & RETURNS

DELIVERY TIMES AND CHARGES

Republic of Ireland 

FREE on orders over €60 and €6 for orders under €60.

Next Working day delivery on all orders placed before 2pm Monday – Thursday*

DPD Couriers

If the order is made before 2pm on a weekday your order will be dispatched that day and delivered on the next working day* 
If there is nobody at the address to sign for the package, the driver will leave a leaflet telling you how to contact them to arrange redelivery.


Please leave a comment when checking out if you would like the courier to leave your parcel somewhere at your address eg in your porch/ bin or with a neighbour.


* DPD deliver 99% of parcels on the next working day
SUBSCRIBE & SAVE

Subscribe & Save

Choose Your Plan:

Select your preferred product and choose the frequency of your delivery. Options range from weekly to bi-monthly, ensuring you get what you need, when you need it.

Customise Your Schedule:

Adjust delivery dates to fit your schedule. Skip, pause, or add additional products to your subscription at any time, directly from your account dashboard.

Save with Every Delivery:

Enjoy a discount on each order with your subscription. The more you subscribe, the more you save!

Cancel Anytime:

No commitments, no hassle. You can cancel your subscription at any time with just a few clicks – no questions asked.

Never Run Out:

Ensure a steady supply of your favourite products without the worry of reordering. We'll take care of the rest, making sure you're always stocked up.

Easy Management:

Manage your subscription easily through your account. View upcoming deliveries, change your products, and update your preferences all in one place.

Reminder Emails:

Stay informed with reminder emails before each delivery. This gives you the flexibility to make any last-minute changes to your order.
View full details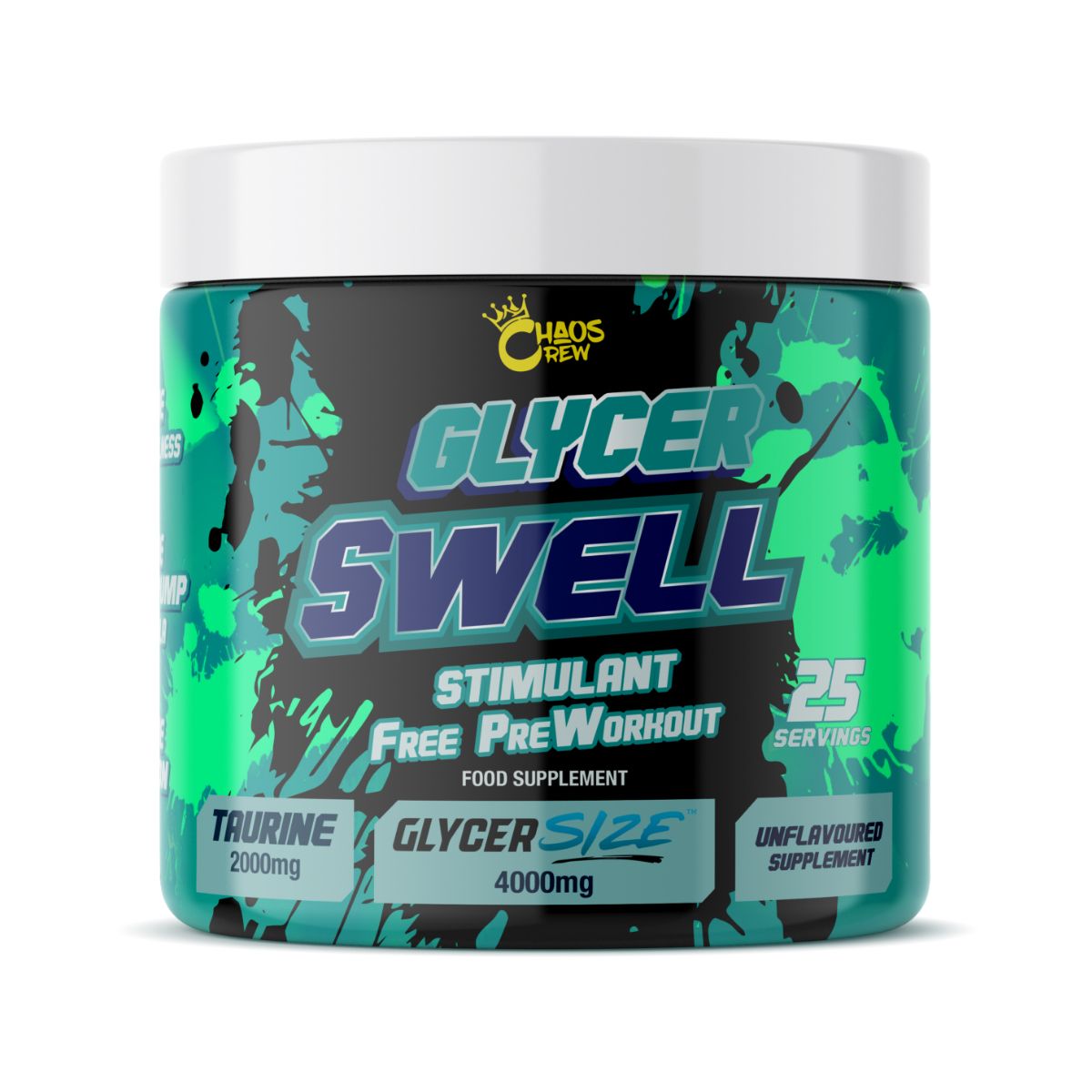 OUR VISION:
At Supplements Direct, our vision is to empower individuals on their journey to optimal health and wellness. We believe in the transformative power of quality nutrition and supplements, and strive to be a trusted partner in your fitness and health journey.
Our commitment is to provide a comprehensive range of top-tier supplements and nutritional products, catering to diverse health needs and fitness goals. We aim to inspire, educate, and equip our community with the best resources to achieve a healthier, more balanced lifestyle.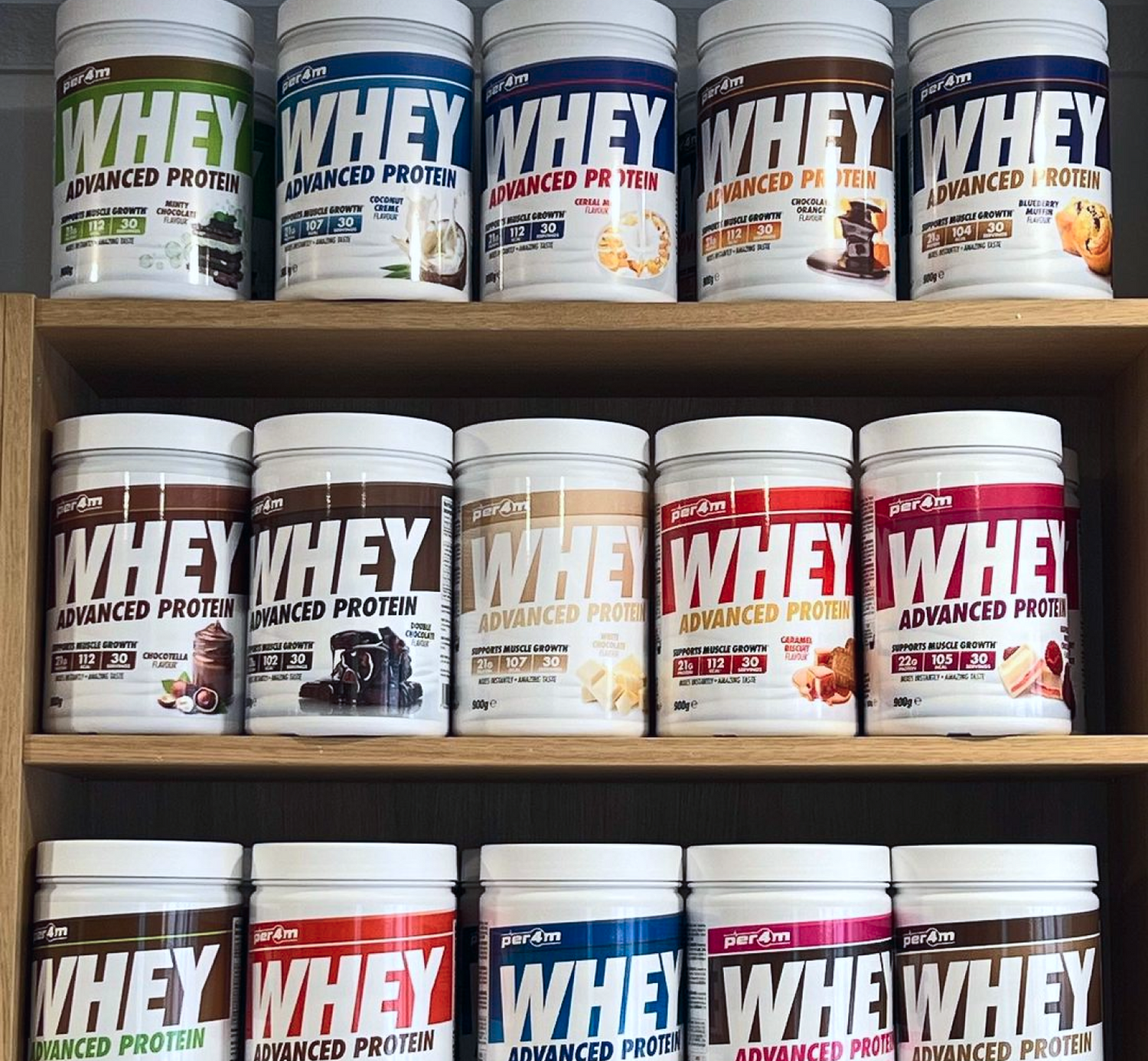 ALL YOUR FAVOURITE PRODUCTS UNDER ONE ROOF
Our vision is to bring you an extensive collection of your favourite products, all under one roof. From high-quality protein powders to essential vitamins, and everything in between, our range is carefully curated to include the best brands in the supplement industry.
Whether you're a fitness enthusiast, a weekend warrior, or anyone in between, our diverse selection ensures you'll find exactly what you need to support your health goals. Shop with us and experience the convenience of having all your supplement needs met in one place. We even offer subscription to save you the hassle of running out of products!
ORDER BY 3PM FOR SAME DAY DISPATCH!